Have you ever woken up and asked yourself, "Did that really happen?"
No? Well then... Me either... *cough*
During my last couple of weeks in MA, I made it a point to get in as much hangout time with my friends before I had to say my see-you-later's. After a couple of late nights at the bar, we ended up at this place called the Golden Greek Restaurant. Amazing eggs and potatoes! I made the mistake of (drunkenly) ordering two eggs and hash. My friends voice still echoes in my head, "Jasmine... that's meat. You don't eat meat!" No worries, everyone. I gave them to the guy sitting next to me. Haha! The next few times I dined there I ordered one egg which comes with a side of potatoes and toast. Yumm! Seriously some of the best potatoes I've had. So good, in fact, that I started eating the potatoes off my friends plates. Yes, I'm that girl.
Now to the point of my post. Have you seen IHOP's hashbrown stacks?! I tried their spinach and mushroom hashbrown stack while out at breakfast with my lady friends. Normally I stay clear of mushrooms, as a high amount of them can cause my eczema to go crazy. But for the sake of not altering the dish, I stuck with it. I'm glad I did. I forgot how much I enjoy mushrooms!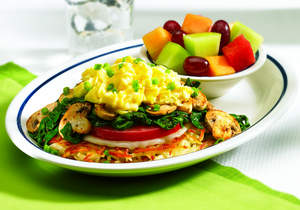 This is pretty much what mine looked like. Before I ordered, I had contemplated ordering an extra side of hash browns, but I went against it and ordered fresh fruit instead. Glad I did! They really piled on the hash browns when they served me my dish. I was very pleased! This girl loves her potatoes. The fresh fruit was a great way to end my meal. If you haven't tried this amazing dish, I suggest you do, and soon! If I read correctly, they're only serving this until February 19th. Get to IHOP!